The latest additions to the Celebrity fleets that have revolutionized all our ships. The magnificent and glorious Celebrity Edge and Celebrity Apex have a lot to offer. From the Garden to the amazing Magic Carpet, to the private plunged pools in the new 2 story Edge villas and the technologically advanced amenities onboard. Dining on these ships is a huge part of the experience. With around 15 venues you can opt a different venue for each night (some carry a service charge). After a nice meal a theatre visit is a must. The Theatre is one of the most high-tech spaces you will find at sea. Definitely the Future is Celebrity Cruises.
Dining
Different restaurants offer Different cuisines await you onboard. Starting off from the most remarkably satisfying place, the Main Dining Room. As part of the complimentary dining one can enjoy a sip or some casual bites at the Eden Café. You can also pop by the Oceanview Café for breakfast, lunch or dinner. If you are after something to satisfy your cravings  the Mast Grill is the place for you for that juicy burger, a hearty salad or simply a filling sandwich. Moving on to the Speciality Restaurants (at a charge).
The Fine Cut Steakhouse can offer scrumptious cuts of meat and the finest seafood. Le Grand Bistro inspired by the classic French bistros for a whole new experience. Le Petit Chef and friends with 4 different cuisines and a magical dining experience. Raw on 5 for the signature fish dishes, sushi and sashimi. The Magic Carpet – offers seafood selection from Raw on 5 as well as its unique menu. One can also enjoy Dinner on the Edge when the Magic Carpet ascends to the top of the ship to enjoy al fresco dinner. The Rooftop Garden Grill for the ultimate outdoor experience and the Eden Restaurant for that tranquil ambience.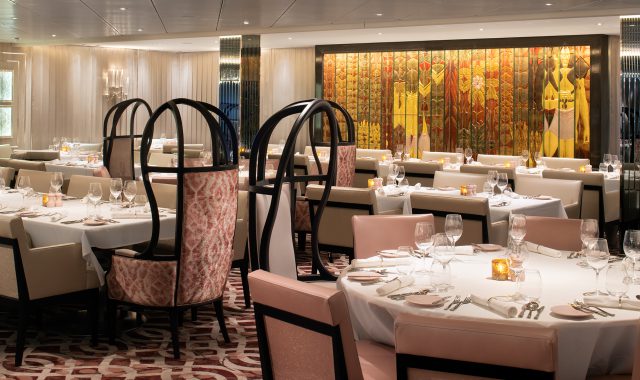 Tech-savvy individuals are sure to fall in love with this particular class with the latest innovations being offered onboard. An indescribable experience awaits you from the amazing 3 storey open space inspired to the Italian piazzas, home to different restaurants and bars that offer good vibes.
To complement the good vibes there's nothing better than the relaxing Eden, the innovative onboard experience. The high tech Theatre will get will transport you into a different world. Experience Celebrity like never before.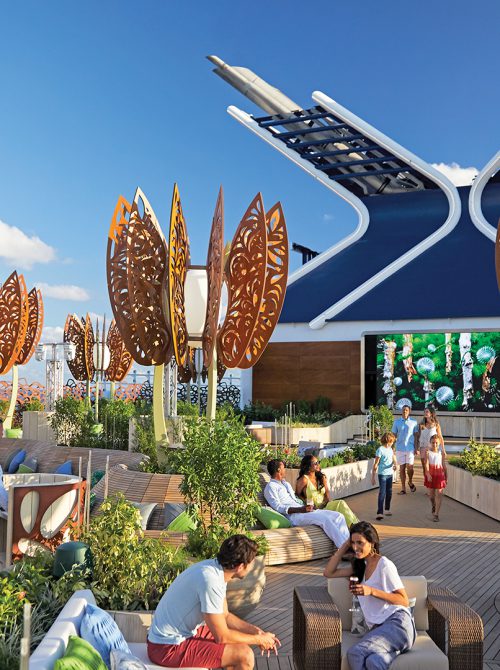 Accommodation
Choose between the different staterooms offered, mainly : inside cabins, outside cabins, verandas and Infinite Verandas or higher even more luxurious categories such as the concierge class, Aquaclass or Suites. All rooms are well equipped with all necessary amenities. Sterooms do vary in size according to category. Most of the cabins accommodate  maximum 2 persons with exception of a limited number of family cabins which take up to 4 and a  very few number of cabins which can take up to 5 persons in the room as well.